go-go bears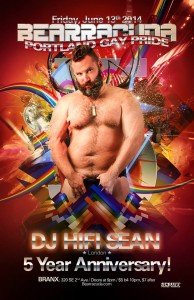 Friday night is for the furry set with when this regional party takes over Branx. Portland is prime time for bears and cubs. It fits nicely with our Wild West lumberjack vibe so expect the men to be out and growling. Plus with such a miniscule price tag (and for their 5th anniversary no less!), DJ HiFi Sean and gogo bears and laser lights (oh my!) there's no reason no to bust out your honey pot.
And if this irreverent summer preview video doesn't rev your bear-lovin' engine I just don't know what will.
$6, 9pm Friday June 13th
Branx
320 SE 2nd Ave
Copyright 2014 qPDX
Proudly powered by WordPress
Theme: Blogly by
ThemeFurnace
.